And now for the long awaited update to the home build saga. When we
last left our heroes
, they were anxiously awaiting the paving of the road in the next part of the subdivision, so construction could start on the homes....on to Building a House - a Cautionary Tale (part 2)......
After a month of waiting, and communicating back and forth with Beazer representatives (moving higher and higher up the ladder), we decided we had had enough. When the road still wasn't paved on October 9th (a month later and after having been told for more than 2 weeks that "it's getting done this week"), we decided to look at other options. Truthfully, we had been looking at other options for awhile, but nothing lived up to
our
home and so we felt better about waiting. But we also knew that it would take about 90 days to get into the house once they started building it. And our house wasn't scheduled to be started until about 4 weeks
after
the road was paved. So even if the road had been paved that weekend, we were looking at a best case move-in of mid-February and a realistic move-in of mid-March. It was just too long.
There were two things, outside of the wait, that really helped cement our decision. First, our sales rep, JB, left the company. JB had been a champion for our cause. He completely sympathized and did everything he could to help us whenever he could. Not having him in our corner anymore was a tough blow. But more importantly, we realized we had a much larger budget than we had originally anticipated. This allowed us to open up our search and find homes that were as good as, or better, than the one we were building. We got a new pre-approval letter and the next day, we went out to look at a few new options.
And we found it. The first home we walked into after adjusting our budget, we fell in love and immediately put in an offer. It was accepted and we are scheduled to close
next week
! The home is beautiful. It's a brand new build, just over a mile away from our 'other' house. It's actually in a better location as far as our commute and day care drop off as well - which is a nice perk.
Before I tell you about the new house, I want to take a moment to say this. While we were increasingly frustrated with the construction delays, Beazer was nothing but gracious about everything in all our dealings with them. When we informed them that we were no longer interested in moving forward, they let us out of our contract with no questions asked, and refunded our earnest money without argument. There is no doubt in my mind, that if presented with an opportunity to work with them again, we would (so long as we had a more flexible timeline than we do at present). The situation we were in sucked, big time, but Beazer did their best to keep us satisfied in the interim and made the right call when it came time to cut ties. And for that, I am beyond grateful (and impressed).
Our new home is built by a local, custom builder - Caywood Builders. You'll remember my note about the local builders here, but our realtor has worked with Caywood before and spoke highly of their work. Our home is based off their "
Lynn
" model and is about 500 sq ft larger than our previous house. We did have to make a few concessions to get into a home in a more reasonable time frame...I know longer have a pantry (ugh - I mean I'll survive...I've never had a pantry, so why start now, but I was really excited for my walk in pantry), there's no study (but we went from 3 bedrooms to 4, so we'll just convert one of the extra bedrooms into an office/media room for now), there's no morning room (this is something we had only just decided to add on, so Chad says I can't really miss it, but I had also gotten pretty excited for that), and the yard is a bit smaller. To be completely frank, I'm still mourning the loss of the house we were building. And while I'm beyond excited to get into this new house (and I do love it - I really do), I still hate having to give up the house
we
built. Still, one of the reasons we loved this new house is that many of the furnishings match what we had picked in the other one. The color scheme is great (so we don't have to paint - which is a huge plus), the granite and cabinets are nearly identical to what we chose, the wood floors are darker, but we went back and forth between dark and light floors originally anyway - so that's fine. Why don't I just get to the pictures?
The front and back.
One thing I'm so excited about is that we have an actual porch! I love having a porch. In the other house, we had what could have been a porch, but it was level with the ground, so it didn't
feel
like a porch. This has the real deal. Plus an awesome covered porch in the back as well - with a fan. Lots of outdoor lounging in our future!
The entry way and living room.
So we don't have an actual entry way or foyer, which is something I really wanted, but the other house didn,t really have one either, so it's not like I gave it up. I do love the open-ness of the first floor though. You walk in and can see everything. That's something we really wanted in a floorplan and this gave it to us. We didn't really want a fireplace - which is funny because in the past I always said I had to have a fireplace, but this one is pretty unobtrusive, so we don't mind it. One thing you can't really see in the pictures is that all the corners and wall edges are rounded off. I absolutely love that about this house. It's so cool. We also have those nice arched doorways.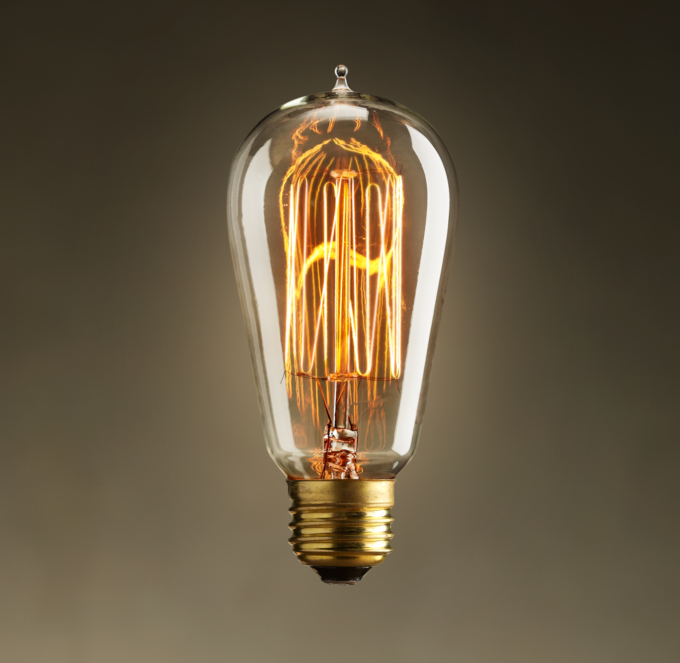 The kitchen and breakfast nook.
I love, love, love this kitchen. The white cabinets are exactly what we wanted, the white granite is even better than what we had originally picked at the other place. The backsplash are these awesome glass tiles that I'm totally obsessed with. I'm also totally obsessed with the light fixtures. They have Edison bulbs with exposed filaments and they are SO COOL.
When we were walking through the house the first time, we saw the electric stove and just assumed there wasn't gas, but turns out,
there is.
So that's perfect (except that we have to buy a new stove and get rid of the one that's there...but small potatoes). The island is massive, which is so necessary. and I love that it has a deep counter - that will definitely be utilized for casual eating and snack times. You can't see the dining area very well in the pictures above, but it's right below a window, so it's nice and well-lit. The space is such that the table really needs to be pushed up against the wall to be effectively used. The table we're looking at getting (yet another thing I'm completely obsessed with) is perfect in that it can be pushed against the wall, but then it also has a bench so we can pull it out when we have company. And when we don't, the bench can be stored under the table without getting in the way of the chairs.
The master bedroom.
Here's another difference between the two - in the other house, all the bedrooms were upstairs. In this house, we have a first floor master. It's a nice size room and has the most beautiful tray ceiling. This is something I didn't realize how much I loved and needed until I saw it in real life. One thing I really love about it is the entrance to the master bath is on a diagonal and has french doors to get in. Which brings me to my favorite room of the house, I think...
The master bath.
OK. I love everything about this - it might be my favorite room in the house. The separate mirrors. The upgraded cabinets and granite. THE SHOWER. Oh my god, the shower. And that tub. Someday, when I have time to take a bath again, I am going to live in that tub. And we had this in the other house, but I'm so excited that the toilet is closed off in it's own little cubby with a door. Now Chad and I can both use the bathroom at the same time - little wins people!
The Upstairs.
All the pictures of the upstairs pretty much look the same so here's the rundown. Upstairs we have two bedrooms connected by a Jack and Jill Bathroom. There is also a large bonus room and inside that is the entrance to the guest suite (pictured) which is massive and also has its own full bath. We'll be turning this guest suite into our media room/office (for the time being).
We're going to keep watching the progress at the old place too. Construction still hasn't started on any of the houses in our phase so it will be nice to track how much time we got back by walking away. I'm also interested to see what they build on 'our' lot, in place of 'our' house. One thing we realized too (well, we knew it from the beginning, but just kind of dismissed it as less intrusive than it probably is), is that the house we were building was in the first phase of a 6-phase construction project. All we were going to see/hear for the foreseeable future was construction. That would not have been pleasant. Our new community is mostly finished - and at least our immediate vicinity will have no more construction that we need to deal with.
We got confirmation that we are closing at 9 am on Friday, so it's really happening! I can't wait to have our own space again (and I'm sure my parents feel the same way...)!